CUSTOM ROYAL COUNTERTOPS AND TILE
Over 15 years serving the Teton Valley and surrounding area with Countertop & Tile Fabrication and Installation. Our passion is YOUR satisfaction. Top Quality workmanship while building friendships along the way – That's the Custom Royal Countertops and Tile difference.
Hablamos Español! Servicios para todas las comunidades!
Call for a free estimate + Save 5%!
SCHEDULE YOUR
FREE ESTIMATE FOR
5% SAVINGS TODAY!
Are you a TEACHER? Ask about additional Special Pricing for Educators!
FROM FABRICATION TO INSTALLATION, WE'VE GOT YOU COVERED!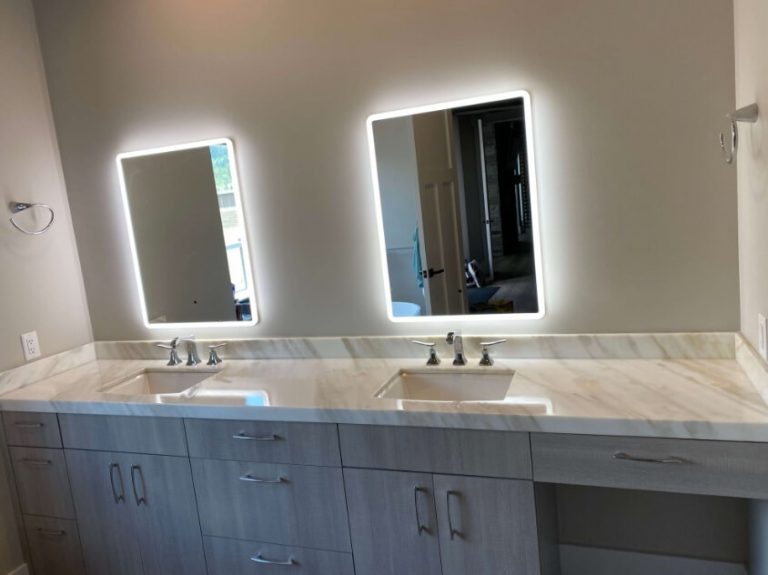 Quartz, marble, granite, natural stones, and more. Besides fabrication and installation, we do repairs, refinishing, polishing and sealing (any service for caring for the stone).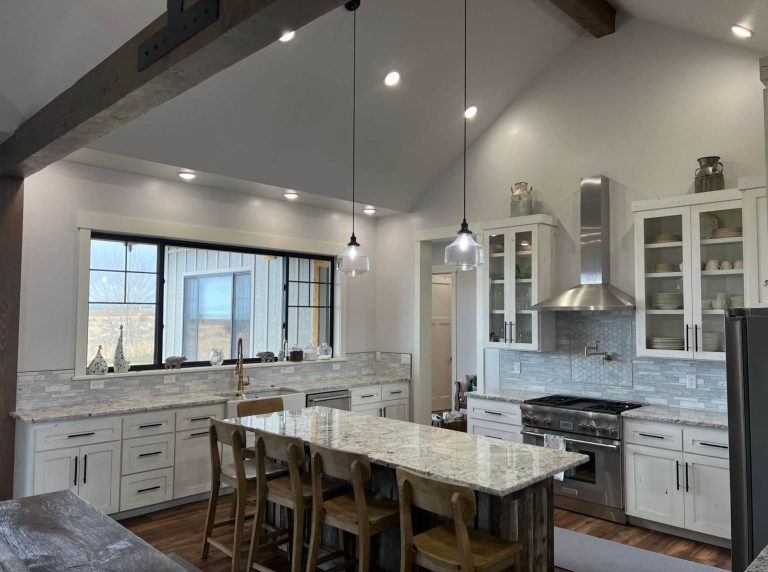 From kitchen backsplashes and bathroom showers to floors, entry ways and hallways – we take on projects of EVERY size. Click to learn more.
FABRICATION, INSTALLATION AND REPAIRS
At Custom Royal, our main countertops include quartz, marble, granite and natural stones. Besides countertop fabrication and installation, we do repairs, refinishing, polishing and sealing. Really, any service that requires caring for the stone. We wanted to walk you through the pros and cons of a variety of stones we work with, based on our expertise.
CHECK OUT THESE BEAUTIFUL KITCHEN COUNTERTOPS WE INSTALLED!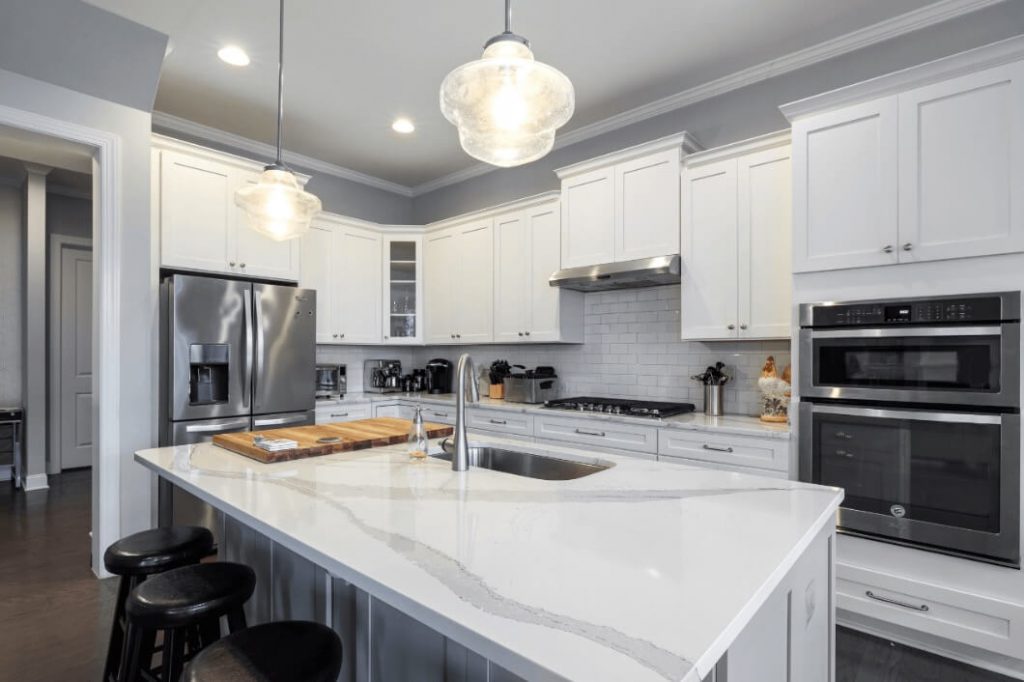 CONS TO INSTALLING QUARTZ COUNTERTOPS
Quartz is typically a contemporary look, though not necessarily a con as  beauty can be found in everything. It's important to mention, however, that from our experience, most homeowners prefer the more natural-stone look like marble and granite compared to manufactured. A major difference when it comes to manufactured versus natural is the seems in the stone are more noticeable creating a unique look some don't appreciate. This isn't a deal breaker to most considering a Quartz countertop upgrade.
Unlike granite, Quartz isn't as heat-resistant making it easier to damage with hot plates, pots or pans directly placed on the stone.
PROS TO INSTALLING QUARTZ COUNTERTOPS
One of the most attractive stones we offer is Quartz – a manufactured product. During the manufacturing process, color options are nearly endless versus what you'd find in more natural stones such as granite or marble. The appearance of the finished, engineered stone is rich and luxurious. This luxurious finish creates a depth that's unable to be produced with solid-surface materials like Corian. A major benefit to Quartz is the fact it has a similar durability to granite and concrete, however, is more forgiving making it more difficult to crack or chip. 
Another unique quality to Quartz is it doesn't have the same "hardness" that some find unpleasant. Quartz is a non-porous, hard surface allowing it to resist staining much better than granite, marble and concrete. When it comes to wine, tomatoes, coffee, oils and juices, Quartz stands up nicely compared to other stones as well. This non-porous material also means you can be confident when going to clean your countertops, it's not harboring viruses or bacteria often found in the kitchen or bathroom.
MORE ABOUT MARBLE COUNTERTOPS
The Ancient Greek term where the word "marble" is derived from is described as "Crystaline Rock, shining stone" –  and it couldn't be more accurate! Marble is a beautiful stone, with every piece completely unique in its own way. This unique element gives way to a sophisticated upgrade to any space utilizing marble as construction or design.
At Custom Royal, we're pleased to offer highly resilient, premium quality marble wherever you're looking to have it installed. With it's incredible natural appearance (formed by carbonate minerals such as calcite or dolomite), minimal maintenance requirements and strength, marble is easily up there as a top choice for our clients.
Each piece of marble we install tells its own story in a remarkable way, and we offer a wide variety of variations, colors and styles. Colors such as luxurious, rich dark tones (highlighted by bright veining) to captivating white hues with incredible speckling. You can rest assured that each piece is delicately treated to ensure it's natural look is preserved, and natural strength retained.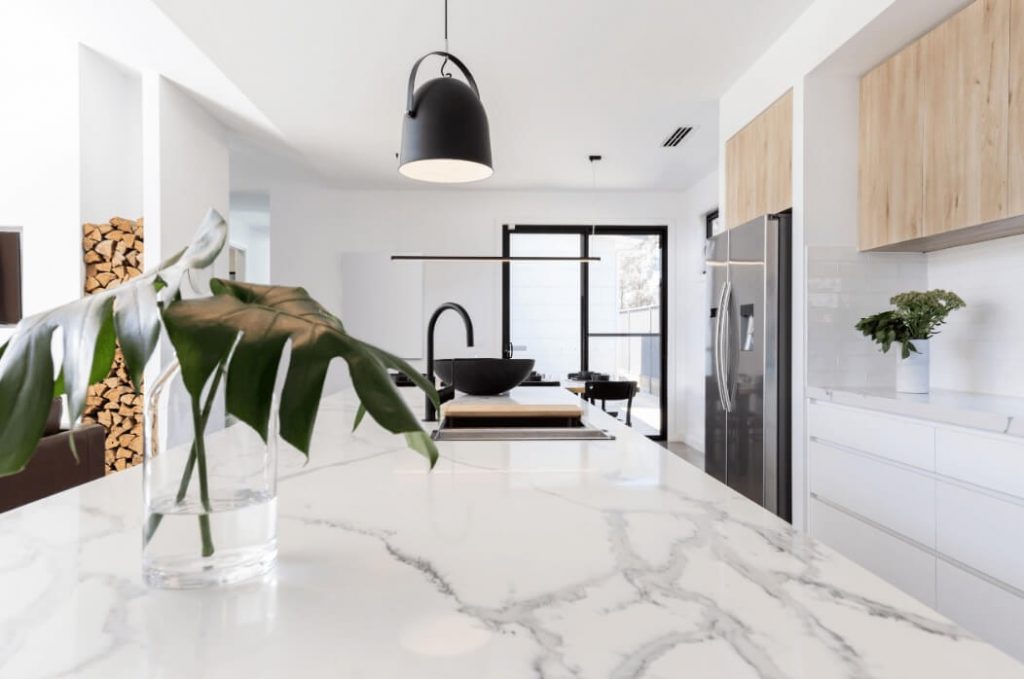 CONS TO INSTALLING MARBLE COUNTERTOPS
With marble, you can be guaranteed to see some scratches…. and to slice lemon and limes on a cutting board. Have you ever noticed a marble-finish that looks dull and seems vulnerable to scratches? This is called "etching" (prolonged exposure to an acid) which removes the sealant or polish from marble's finish.
One way to combat this is through a process called "honing". This results in a less polished, more matte effect making etching less noticeable. Unfortunately, however, this won't stop etching from happening.
Unlike other durable stones (like granite), marble is much softer, allowing the stone to easily chip. With that said, caution must be taken when leaning against marble countertops wearing a belt or heavy jewelry (like long metal necklaces).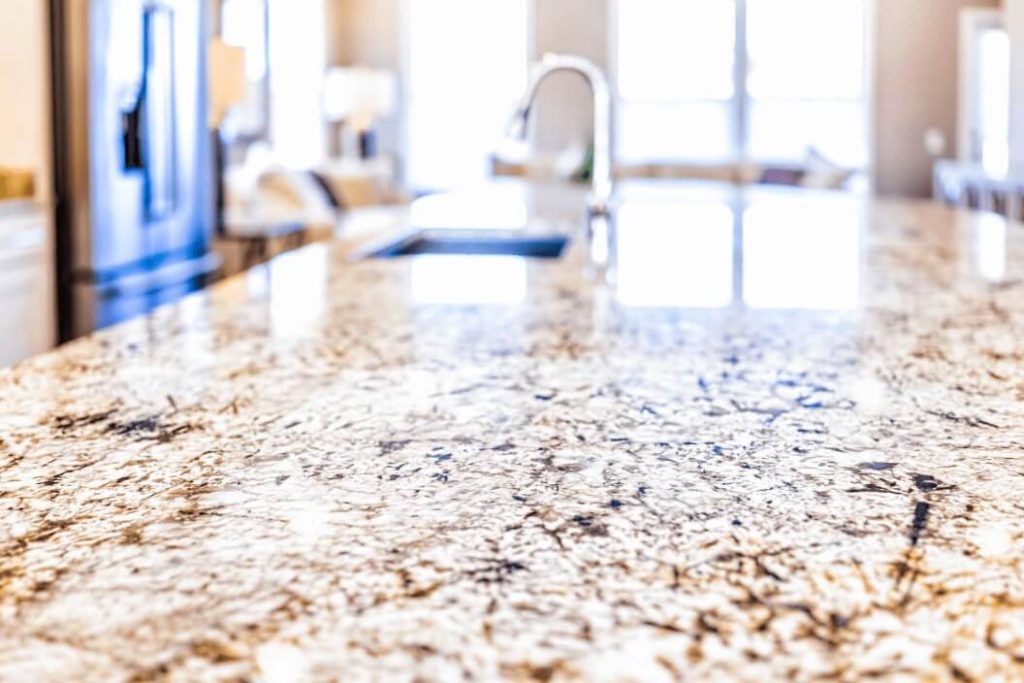 CONS TO INSTALLING GRANITE COUNTERTOPS
Granite countertops do have a few weaknesses, though timeless and beautiful. Most issues occur with the improper seal of the granite or when the sealant wears off without being resealed. The fact that granite is porous (unlike other stones such as quartz) means that poorly sealed countertops are susceptible to absorbing wine, juices, oils and tomatoes that makes stains nearly impossible to remove.  Another issue with poorly-sealed granite countertops is harboring potential bacteria or viruses.
Most granite countertops should be sealed annualy as part of regular maintenance, however some treated granite can last up to a decade without resealing. When resealing is overlooked, signs of staining can quickly become obvious. Another challenge is heavy objects falling on granite can potentially crack or chip the stone. Though not common, this is a possibility under the "right" circumstances.
PROS TO INSTALLING GRANITE COUNTERTOPS
There are few countertop materials that can match the truly unique qualities of granite; an all-natural product with beauty and appeal to last a lifetime. The kitchen, often a gathering place in the home, quickly creates an incredible centerpiece when a high-quality granite countertop is installed. Finding the perfect match for your kitchen is an easy one when it comes to granite, as granite provides over 20 shades to work with, allowing your walls, flooring and kitchen countertops to blend perfectly. And as one of the top Chapin Granite Countertops providers and installers, we will help you get that perfect match!
Scratching granite is next to impossible as it's an incredibly hard substance unlike other natural stones. Granite resists heat, making its use near a cooktop or range ideal. It also takes normal wear and tear nicely, but will, however, dull knife blades when working directly on it. As far as heat resistance, setting down a hot pan fast is absolutely fine when directly placed on granite as it takes heat very well without being weakened or damaged. In the bathroom, a hair dryer or straightener placed directly on granite won't hurt it either.
When granite is properly sealed, it won't absorb liquids and can be extremely resistant to stains. At Custom Royal, we'll seal it correctly so it maintains its beauty indefinitely. This is also something that can be done yourself.
COUNTERTOP Repair and Refinishing
Caring for your stone countertops
We've worked with natural stone for many years, therefore becoming intimately familiar with how to protect, care for and resolve any issues when they occur. At Custom Royal we make answering your questions a priority, and aren't shy to travel to your home to help resolve any issue that arises. With that said, our most commonly asked question from clients is: "Now that I have my stone countertop installed, how do I properly care for it?" Here are a couple of our top tips…
1. Prevent Staining by Ensuring Proper Sealing
Proper sealing and resealing (as needed) is one of the most important steps to ensure protection against staining. Where most natural stones are porous, they can easily absorb staining agents found in dropped food, oils, juices and other substances if not properly sealed.
PRO TIP: If you've ever wondered whether or not your countertops require resealing, pour some water on a commonly-used area of your countertop and allow it to sit for a few minutes. A key indicator is whether or not a dark spot was left where the water was poured. If so, water was absorbed into the stone, and it's of utmost importance to reseal to protect your countertop.
Is sealing a do-it-yourself job, or should you call a pro?
As with most DIY jobs, it's absolutely more than possible to seal your stone yourself. However, calling an expert like Custom Royal guarantees complete and proper coverage, as well as full removal of excess sealant potentially dulling your stone's appearance if not done correctly.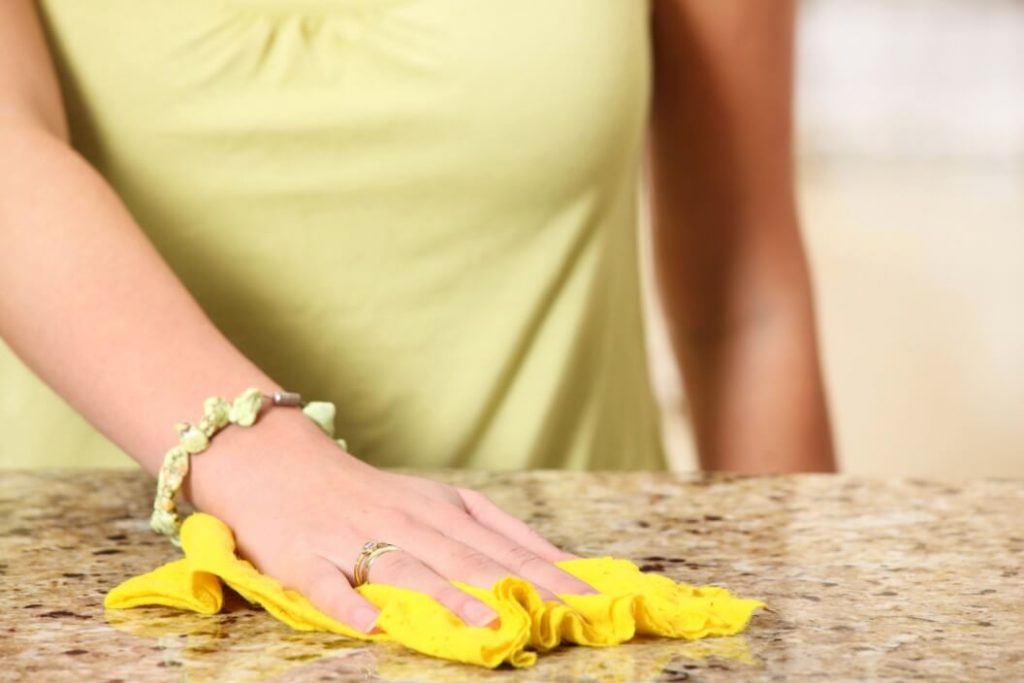 2. Know Which Cleaning Products Are Stone-Safe
DON'T: A common myth in cleaning natural stone is using vinegar and water – a major no-no in the safe cleaning of your countertops. Any cleaner full of acidity (or is abrasive) should be avoided like the plague. Another risk is cleaning your stone with dish soap and water as this can create discoloration and a buildup of film (depending on ingredients found in the soap). Glass cleaner is another cleaning product to avoid, as it could eventually dull the polish of your natural stone.
DO: Natural stone should be routinely cleaned using a pH neutral cleaner designed specifically for stone countertops.
3. Do Your Best to Avoid Damage
Prevention is worth a pound of cure, right? Marble countertops are sensitive to acidic spills, so coasters under glasses are a great preventative measure that can easily be taken to ensure acidic staining from under glasses doesn't occur. Cleaning up spills immediately is another way to avoid staining. 
When it comes to granite, there's no denying the durability and strength of the stone. Reasonable precautions do need to be taken, however. Granite is tough against heat, but it's best not to take chances by using pot holders or hot pads to avoid damage.
One challenge is trying to avoid direct sunlight on some stones, as this can dull or discolor certain areas of your countertops due to UV rays. Some stones use fillers, typically where this discoloration occurs versus the stone itself. Attempting to minimize direct sun exposure is the best way to ensure this doesn't happen (where possible).
For All Our Services, We Use The Highest Quality Of Brands! Cambria Is One Of Them...
FROM BACKPLASHES TO FULL MAKEOVERS
At Custom Royal, we never settle for "good enough". From kitchen and bathroom tile, to other areas of the home (including fireplaces), we have the expertise and experience to ensure your home is treated to a Royal upgrade. Choose the Chapin tile installer experts who are focused on top-quality workmanship and relationship building. Our reputation and integrity are the driving force of our business, which means every home we enter is treated as if it were our own. The right combination of passion and care are put into every project we take on, and often completed having built lasting friendships.
When it comes to tile installation, here are common problems we often face and help resolve:
Bathroom showers often leak due to improper tiling. Subfloors done improperly lead to movement in the floors (eventually leading to tile flexing, cracked grout lines and grout gradually releasing). More often than not, a re-ground won't fix this issue as the issue lies below the flooring. Unlevel flooring issues are something we often deal with, and have the opportunity to make them flat again.
ABOUT CUSTOM ROYAL COUNTERTOPS AND TILE LLC.
With over 15 years experience in fabrication and installation our goal is to bring 100% customer satisfaction, ensuring family's are happy to be in their kitchen. The kitchen is the center point, and it's often a place where people want to gather. That said, we get to be a part of that and bring happiness into each and every family that opens the door to us.
We are locals, having been born and raised in the Teton valley. We are honest and transparent. Our clients are super happy and excited and that is our biggest reward.
We're also unique: most businesses are all about the number in their bank. Our goal is to see how many customers we can call and say "what's up my friend?". And we keep good relationships with them. We care about building a good relationship and doing high quality work. So they can call us whenever and we'll come help them out personally. We are those guys who will just come and help. "Royalty" is not about us, its about how we treat other people.
So even though Jackson hole is our biggest market, we're happy to help anyone in the valley because it's our home. We don't mind going the extra mile for our clients. We are your local top-rated Chapin ID Countertops and Tile Company! We also service all the surrounding area! Give us a call today and let's beautify your home! 
"They do amazing work. Remodeled my parents bathroom for us and tile work was great. Awesome to work with. Great people and service."
"Juan and his crew were professional, reliable, respectful, and went above and beyond to get us our dream countertops! They were quick to respond and produced high quality work, I am more than impressed and would highly recommend them to anyone!"
"Excellent tiles and countertops but even more impressed by the people. The owner, Juan, helped me get my vehicle out of deep snow when it was stuck. Seriously the kindest man I've ever met. Definitely a business worth supporting!"
FREQUENTLY ASKED QUESTIONS
Which type of countertop is best? Great question! For many homeowners, Granite is still the top choice due to its natural beauty and design. However, you have many great options. Call us and we can show you what they are! 
What is the most durable type of countertop? Quartz often wins the competition of "hardest" or "most durable" countertop material, due to it being crushed up Quartz stone that is mixed with resin. 
Which countertop lasts the longest? Again the winner is Quartz! Known for its durability and being able to outlast other types of countertops. 
What is the most durable tile? Choosing a stone tile option (like granite, marble, or limestone) for your tile project will ensure the long-lasting durability you need! 
What types of tiles are available? Ceramic, Porcelain, Marble, Granite, and more! Give us a call today to discuss which option will work best for your project! 
What is the best type of floor tile? You will want something that can withstand the foot traffic. Porcelain tiles and stone tiles are some of the best options out there for durable floor tiles!
We proudly service these cities of Idaho and Wyoming, as well as all the surrounding areas!
Idaho (ID): Thornton, Rexburg, Sugar City, St Anthony, Teton, Newdale, Clementsville, Felt, Tetonia, Clawson, Driggs, Chapin, Victor.
Wyoming (WY): Jackson, Wilson, Teton Village, Moose